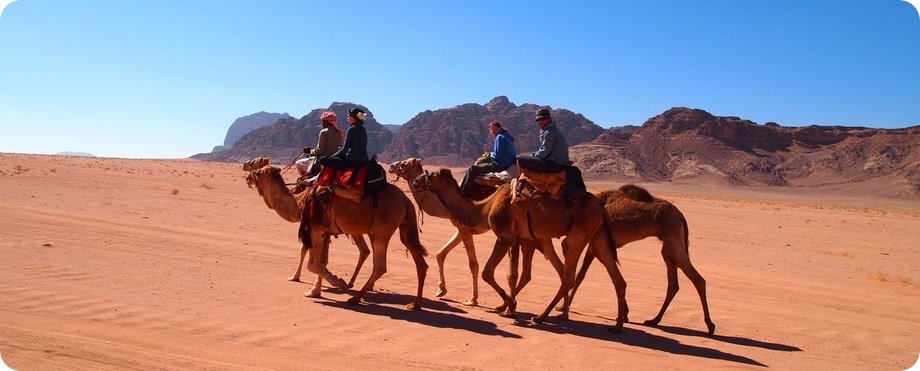 Tour Overview
This tour is a combination of two of our most popular tours. On day one we will visit all of the desert's main sites with a jeep. In the evening we will watch the magical sunset before enjoying an evening filled with Bedouin traditions. You will have the choice to sleep at our fixed camp with a private, comfortable tent or you can camp out in a cave underneath millions of stars in the night sky. The next morning, camels will be waiting to take you on a journey between the desert's towering cliffs back to the Rum Village.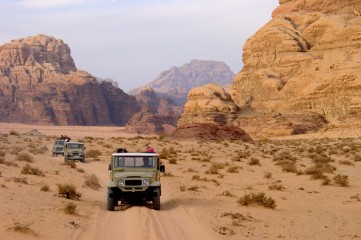 Sites Included:
Lawrence's Spring

Khazali Canyon
Red Sand Dune
Anfishiyyeh Inscriptions
Lawrence's House
Mushroom Rock
Burdah Rock Bridge
Abu Khashaba Canyon
Um Fruth Rock Bridge
Um Sabatah
Tour Programme
Day 1: When you reach Wadi Rum you will arrive at the Wadi Rum Visitor Centre, the gateway to the Wadi Rum Protected Area. Here is where you will pay the entrance fees or enter with the Jordan Pass. After the Visitor Centre, you will continue onward for about 6km to the Wadi Rum Village until you reach the Wadi Rum Rest House. Here I will greet you and lead you inside for a short rest and a cup of delicious Bedouin tea. With a map, I will chat with you about the day's plans. Once the tea is finished, we will set off into the desert.
The trip starts around 10:30 AM and we will visit the main sites of Wadi Rum desert: Lawrence's Spring, Khazali Canyon, the red sand dunes, the Nabatean inscriptions in Jebel an Feshiyeh, and Barrah Canyon. We will find some shade to have lunch and to have a little rest. After lunch, we continue our trip around the desert and we end in the afternoon with a beautiful view to watch the sunset.
Following the jeep tour, we will make our way to the camp where you can enjoy a fantastic view of the setting sun moving behind the desert mountains. After the sunset, you will gather in our big tent where we serve a buffet style meal of traditional Bedouin dinner. When you are ready for bed, you can head back to your private tent or camp out beneath the starry night sky.
Day 2: The next morning, we start with an early breakfast. Then, camels will be waiting for us at the camp to bring us back to Rum Village. There will be a camel for each person and the guide will be mounted on his own camel.
1 person 125 JD

2-4 person 85 JD/pp

Price includes:

English-speaking Guide

Camels

Jeep Service

sandboarding

Accommodation

All Meals

Water

--

Price excludes:

Wadi Rum Entrance Fee

5 JD/person

or Free with Jordan Pass


Travelling with more than 4 people? Contact us regarding group rates.
Tour Add-ons
Have we missed something that you would like to experience in Wadi Rum? Contact us now so that we can make it happen.
Discounts
Are you travelling with children? On some of our tours we offer discounts for children under the age of thirteen. Contact us to find out more.